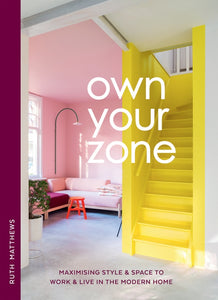 Own Your Zone helps you to create a multifunctional, calm space that works for you and strikes the perfect balance between living and working from home – without compromising on style.
Our home now needs to serve multiple purposes; it needs to be a place we work, work out, wine, dine and chill. With Own Your Zone, learn how to break your home into different zones for work and play. Create an environment that helps you get in the zone at the start of the working day and to easily switch off and wind down when 5.30pm hits.
With more and more of us working from home and it looking likely to become our 'new normal' (firms including Twitter and Facebook have said they will allow employees to work from home for ever!), the work-life divide has become hopelessly blurred.
Whether you're working from your bedroom or your kitchen, learn how to carve out a space to help you focus for your 9 to 5, create a book nook for all that important down time or a clutter-free space for yoga – all in the same room.