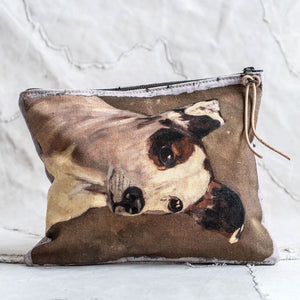 Swarm Terrier Clutch.
The artworks featured on these clutches have been selected from Swarm's special collection of original paintings.
Each image has been beautifully reproduced on linen/cotton fabric on both sides.
The perfectly proportioned zip clutch to carry your phone, keys, wallet and beauty essentials.
Also perfect for an oversized pencil case and general storage pouch. 
Lining patterns and colours will vary.
Material Cotton
Size 23cm x 30cm